The Comprehensive Economic Development Strategy (CEDS) for the INCOG-EDD (Economic Development District) represents a combined multi-county (Creek, Osage, and Tulsa) effort to bring economic improvement to the area. The CEDS summarizes past development efforts in the district, describes the area's economy, provides geographic and demographic information, identifies potentials and constraints with development, and outlines six specific goals to improve economic development throughout the district.

The INCOG-EDD was formally designated by the U.S. Department of Commerce, Economic Development Association (EDA) in 2008. The INCOG District receives planning funds from EDA that allows the INCOG-EDD to implement and update the CEDS that has been prepared and approved for the region. The actions and strategies in the document were designed to have the INCOG-EDD work to supplement and support the existing economic development organizations and groups that exist within the region and to fill gaps as needed.

INCOG developed the Comprehensive Strategy in an effort to establish a regional economic development framework for three counties in the INCOG area, Tulsa, Creek, and Osage.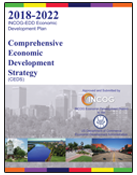 Click here to view the
2018-2022 INCOG-EDD Economic Development Plan CEDS document.

For more information, contact:
Brian Bigbie, Economic Development Planner
918.579.9493
bbigbie@incog.org